Notations – October 18, 2020
Forms are Due Now!
If who have NOT submitted any one of the forms, please complete and submit them ASAP!
Digital Consent: Parental Consent Form
Required for All SLHS Students
So that your child can use the technology resources we have for instruction
Complete and Submit online
Emergency Care Form: PDF Fillable Form
Fill out/Print/Sign and

Send 1 copy to the School (Required for ALL SLHS Students)
Scan/Email 1 copy to mosprague@fcps.edu (Required for ALL Chorus Students for Chorus Dept. Use)
Consent to Share/Free-Reduced Lunch Application:
For students receiving Free/Reduced Fee Lunch
Fill out/Print/Sign and Send it to the School
This will be important to our virtual performances since they will be shared on the web
All SLHS students & their parents/guardians should review the Information Booklet
Scroll down to the 9-12 Forms The information booklet and Opt-Out Forms are available in 8 different languages.
If you object to your child's participation in any or all of the activities listed, then Complete/Print/Sign and Return the appropriate Opt-Out Form(s) to the School.
For all SLHS forms and further details: https://southlakeshs.fcps.edu/opening-packet
Virtual Song-Writing Workshop for HS Students
Parents for Choral Arts (PCA) and the Oakton Chorus Boosters are co-sponsoring a virtual Song Writing Workshop for high school students with experts Jeremy Ragsdale & Harrison de Wolfe.
Visit: https://www.southlakeschorus.org/calendar/songwriting-production-workshop/ for details regarding what this event will offer and
Register for this amazing enrichment opportunity!
There is a cap of 200 students for this workshop and we are advertising it across 4 counties!  So, Do NOT DELAY securing your spot!
First Ever FCPS Virtual Choir!
Be a part of this amazing county wide project for all MS and HS students across the county!
To participate, complete the interest forms below by NO LATER THAN Thursday, Oct 22:
The Cost for each student is $18.  However, scholarships are available for any student in need.  Therefore, just let Mrs. Gigliotti know of your needs, and she will take care of you.
Senior Honors Choir Info + AUDITION UPDATE
We have updated information about Audition.  Thus, please review the section carefully in Senior Honors Choir information so you won't miss any important info!
Virtual Broadway Night: Screen & Stage
Thank you to those students who submitted their audition videos by the deadline! The creative team is reviewing their submissions and working on casting the show, and the outcome will be announced at the HS BWN reveal meeting (date & time TBD.)
In the meantime,
REGISTER NOW! Complete the registration process now or no later than Saturday, 10/31 by clicking here which includes signing the performer and parent contract, registration details and payment / request for financial aid.
Watch out for communications regarding the required virtual rehearsal schedule which will begin in November!
BWN Student Director Application:
Any student can apply, and you do not need to be in the show to be a director.  
So, if you are interested, fill out BWN Leadership Application Form ASAP – by Tuesday, Oct 20th at the latest.  And PLEASE DO NOT WAIT!
Parent Volunteers Needed:
Please Email us at broadwaynight@southlakeschorus.org by Saturday, 10/31 with where you are best able to assist!
FUNdraising:
Assist with corporate ad sales / ad content
Sell/coordinate parent shout-outs / Performer One-liner ad sales
Lead/assist pre-show concession sales and pick-up
Assist Candy-gram chairs for production and distribution
Restaurant night fundraisers and other fundraising ideas
Tickets and Publicity:
Ticket sales and management
Publicity of show
Costume/Shirt/Props:
Assistance with props/backdrop purchase
Shirt order coordination
Shirt/Prop/backdrop pick up and distribution (ES/MS/HS)
Digital program and credit content:
Virtual program/credit content listing: prep for production and proofing
Digital pdf program content production
Have Questions?
PCA Membership & Fundraising Campaign 2020-2021
Please consider investing in the unique and valuable programs and opportunities the SLHS Chorus could offer to your students, as they would reap the benefits for years to come!
PCA Membership: For parents and guardians of current Chorus students
Join PCA today if you have not yet done so!
Friends & Family Membership: Students will send out letters to their friends and families, asking for their support for the SLHS Choral program and share the link:
Corporate Sponsorship: Contact Eric Johnson at Membership@SouthLakesChorus.org, if you know of any businesses that may be interested in being a PCA corporate sponsorship:
local restaurants, retailers, or service providers
Your employer
Your own business
More Ways to Support the Choral Program
Lead this year's Friends & Family letter writing campaign (Oct/Nov)
Volunteer to assist with monitoring and managing collections & reports
Sell Corporate Sponsorships: Work with the team lead by Eric Johnson to help reach out to businesses for Corporate Sponsorship sales
Become our Social Media Chair to continue spreading the amazing music & keep our community updated
In addition, monthly meetings of the PCA are open to any Choral parents or guardians, and they meet the second Thursday of every month at 7:00pm via Zoom.  Please contact Susan Sather at President@SouthLakesChorus.org for the meeting link.
Parents: Please Join "Remind"
Remind is a Free text-based service that provides reminders to upcoming assignments and events.
To subscribe, text @weluvmuzik to the number 81010 as shown below: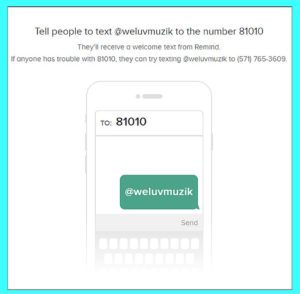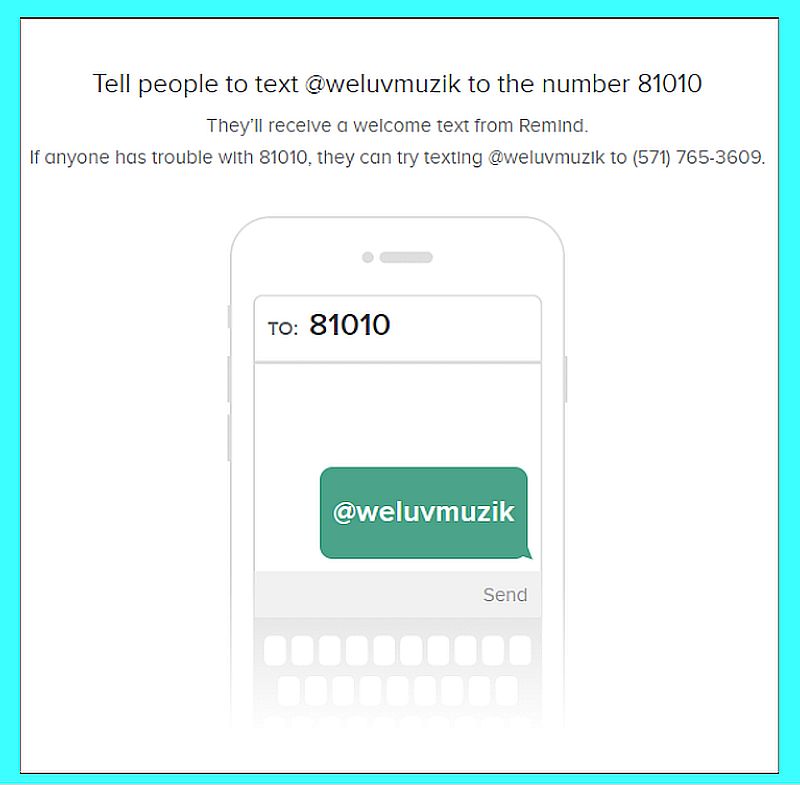 Recording & Slide Show of Back to Chorus Night
Virtual HS Bell Schedule
TIME
MONDAYS
Morning
* Intervention/Enrichment: Select students scheduled for synchronous instruction based on need

* Independent Work: Tasks assigned by classroom teachers
Afternoon
* Student Independent Work

* Teacher planning and professional development
| TIME | Tuesdays & Thursdays | Wednesdays & Fridays |
| --- | --- | --- |
| 8:10-9:30 | Period 1 (Bella Voce) | Period 2 (Select Treble) |
| 9:45-11:05 | Period 3 (Seahawk Chorale) | Period 4 |
| 11:15-11:50 | Lunch | Lunch |
| 12:00-1:20 | Period 5 | Period 6 |
| 1:35-2:55 | Period 7 (Chamber Singers) | Period 8 (Seahawk Camerata) |
Enrichment Opportunities
D.C. al Fine CHORAL CONDUCTING WORKSHOPS
This year, D.C. al Fine is offering conducting workshops for different experience levels ONLINE.
Upcoming Workshops on Thursday, Oct 22
Conducting Foundations: Practice essential skills in score study, cues & cut-offs, body mapping, and more.
Conducting Techniques: Feedback and instruction for experienced conductors – come with your own music to work on!
Classes are kept small so you can get plenty of personal attention!   
That's why you should REGISTER TODAY before you lose your seat! – DC al Fine Conducting Workshops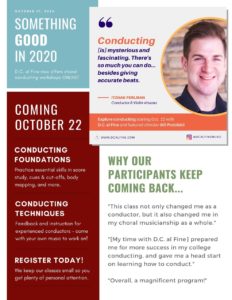 Important Dates
All Required Forms are Due NOW! Please see above for details.
THIS WEEK:
Mon, 11/16 – Sat, 11/21
BWN Rehearsals
(communicated via text messages)
Fri, 11/20
7:30 pm (Zoom)
Family Fun/Game Night (via Zoom)
Registration Info: see Virtual Trivia Nights link above
Sat, 11/21
1:00 – 2:30 pm
Chorus Swag Bags Pick-up Day
NEXT WEEK:
Mon, 11/23 -
BWN Rehearsals (communicated via text messages)
Wed, 11/25 – Fri, 11/27
Thanksgiving Holiday: No School
UPCOMING:
Wed, 12/16
7:00 pm
First Virtual Concert
Fri, 12/18
7:30 pm (Zoom)
Family Fun/Game Night (via Zoom)
Registration Info: see Virtual Trivia Nights link above
SLHS Choral Director
Rita Gigliotti, RAGigliotti@fcps.edu
Parents for Choral Arts (PCA)
Parents for Choral Arts is a 501(C)(3) non-profit booster organization supporting the South Lakes High School Choral Department.  Federal Tax ID: 26-3487105
2020-21 PCA Board Members:
President
Susan Sather
president@southlakeschorus.org
Vice President
Eric Johnson
vicepresident@southlakeschorus.org
Secretary
Heather Smith
secretary@southlakeschorus.org
Treasurer
Ray van Hilst
treasurer@southlakeschorus.org


Member at Large
Amy Guerber
member-at-large@southlakeschorus.org
Member at Large
Stephanie Hando
member-at-large@southlakeschorus.org
Webmaster
Ray van Hilst
webmaster@southlakeschorus.org
Broadway Night
Juliana Carter
broadwaynight@southlakeschorus.org
Broadway Night
Amy Guerber
broadwaynight@southlakeschorus.org
Membership
Eric Johnson
membership@southlakeschorus.org
Admin Assistant
Mitsuyo Sprague
assistant@southlakeschorus.org
mosprague@fcps.edu