South Lakes Choral Program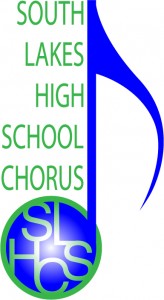 Throughout their four years in the South Lakes High School Choral Program, students learn vocal technique, music literacy, and develop an appreciation and in depth understanding of various musical genres including Classical, Jazz, Pop, Opera, Broadway, and World. They participate in adjudications and performances at venues throughout the United States and beyond. Students develop proper auditioning skills and participate in District, Regional, State, and National level choirs. They take part in making professional recordings and workshop with renowned professional musicians in the classroom. Students learn to arrange music, student direct performances and become independent musicians. Participation in community outreach performances and programs and the Tri-M music honor society enable students to enhance leadership skills, earn service hours, and share their passion for music with the greater community.
The South Lakes Choral Department is honored to be the recipient of the 2011 American Association for People with Disabilities (AAPD) Inclusion & Diversity in the Arts Award. AAPD is the largest non-profit cross disability organization in the United States. The award was presented at the 2011 AAPD Gala in front of an audience of over 900 Congressmen, Ambassadors, and Advocates from around the country who provide support and leadership for people with disabilities. Members of the South Lakes Choral Department performed for this audience which included Secretary of Education, Arne Duncan, and Lauren Potter who plays 'Becky' on the hit FOX TV show GLEE.
The South Lakes Choral Department consistently earns Superior ratings at adjudication festivals and due to combined efforts of the South Lakes High School Chorus, Band and Orchestra the Music Department continues to be awarded a Blue Ribbon by the Virginia Music Educators Association.
To learn more about our program and see some of our performances, visit our YouTube Channel.