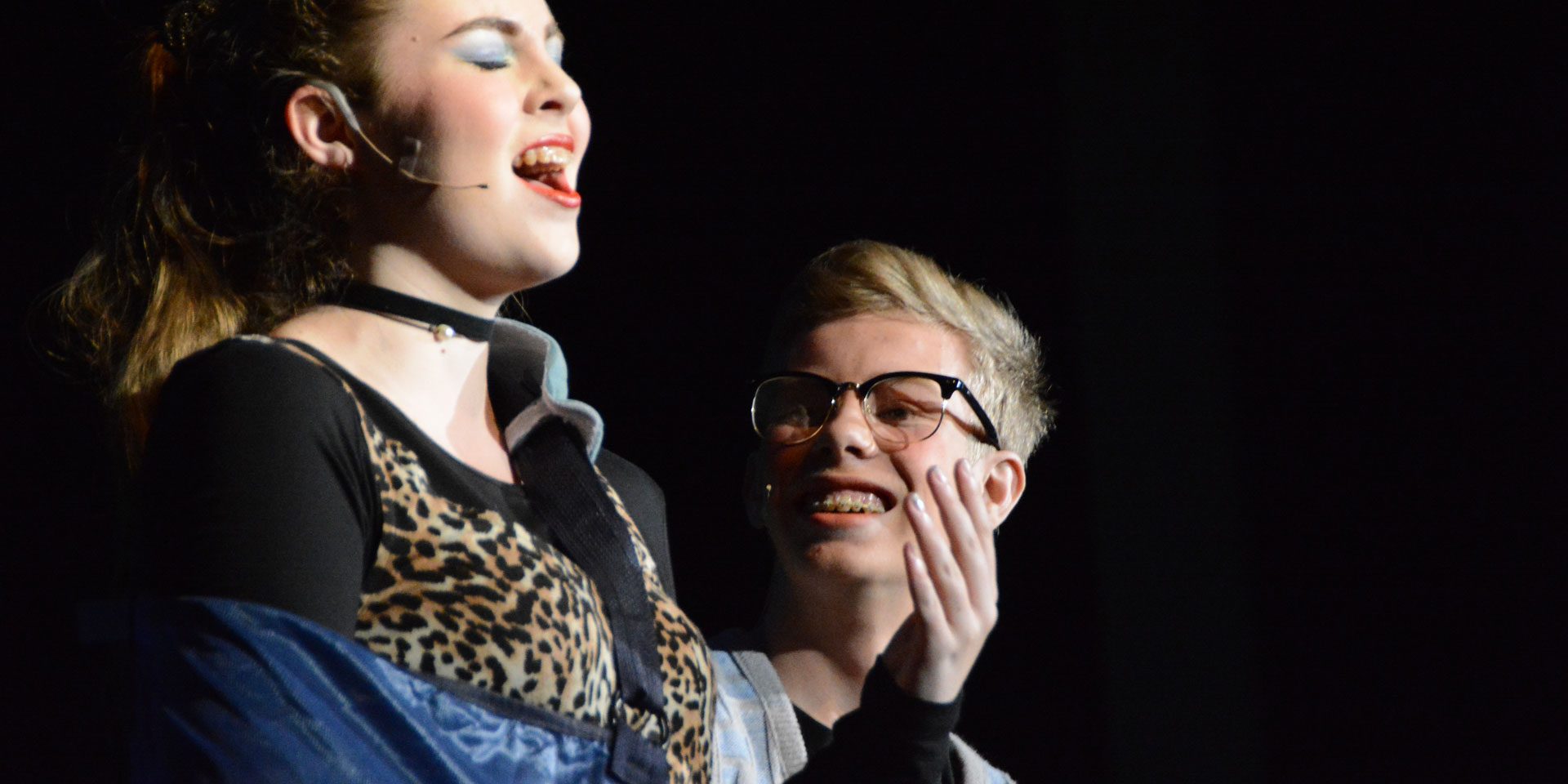 Answers
How many ensembles are in the Choral Program and how is it structured?
There are currently 4 ensembles in the SLHS Choral Program:
Men's Camerata (9-12 grade) non auditioned
Women's Chorale (9-12 grade) non auditioned
Bella Voce (10-12 grade) women, advanced, auditioned
Chamber Singers (11 & 12 grade) mixed, advanced, auditioned
All freshman are placed in Women's Chorale and Men's Camerata. Freshman are not eligible to audition for advanced choirs. Students are placed in ensembles based on vocal development, vocal and emotional maturity, and musicianship. As a singer, your body is your instrument so physical growth and development of the body parallels to that of the voice in both girls and boys. Freshman will go through many vocal changes during their first year in high school choir.
Here is a snapshot of the areas of transition for all Freshman singers:
Working through the 'changing voice' (For boys the change is more obvious than girls, but both go through a change.)
Daily sight singing and theory work at the high school level
Developing independent musicianship: how to effectively practice, how to have a sectional rehearsal without the director leading, how to really transfer the sight reading and written theory skills into the performance repertoire
More difficult repertoire
Basics in conducting
Mechanics of vocal production: vowel placement, breath control, articulation, resonance and healthy tone production, engaging the entire body in the singing process
IPA (international phonetic alphabet)
Communicating the music to the audience – emoting the text and engaging in the expressive markings
Achieving the first steps of musical artistry
Learning to perform in rehearsal and concert as a young professional
These 'transition areas' are a part of the foundation of the high school curriculum. Students will continue growing in these areas over the course of the four years. Advanced choirs work on these areas at a higher level with an emphasis on achieving artistry in musical performance.
Vocal growth and development during adolescence must be treated with care and nurtured properly. There is a huge difference in the vocal sound and maturity of a 9th grader compared to a 12th grader in both girls and boys. The most noticeable amount of vocal development for both girls and boys at the high school level happens between the beginning of 9th grade and continues through the end of 11th grade. The voice continues to grow and change during their Senior year too, but in more subtle ways than in the earlier high school years. Girls tend to mature more quickly than boys; however, the voice is still at its novice stages during the high school and early college years of development. Singers do not fully mature in their voice parts until their mid to late twenties and even into their thirties, depending on their voice type. As the body changes and matures, so does the voice.
What will students learn in the Choral Department?
Music Literacy (how to read, write and speak the language of music)
Music History & Culture
Vocal Production (how to use their instrument correctly – breath control, focusing the tone, engaging the body in the singing process)
Music Theory & Conducting
Professionalism
Pride
Tolerance
Team work
Responsibility
Self-respect
Self-discipline
What is considered the 'top ensemble' in the Choral Department?
Both advanced choirs: Bella Voce (Advanced Women's Ensemble) and Chamber Singers (Advanced Mixed Ensemble) are treated equally with the same expectation and produce the same caliber of musical excellence. The only difference is that 10th grade girls are able to audition for Bella Voce, whereas Chamber Singers is an 11th and 12th grade ensemble; however, this does not make Bella Voce any less advanced than Chamber Singers. The size of the ensembles depend on the overall growth of the choral program, balance and blend within voice parts, and the individual success of student musicianship through the audition process. Careful consideration is given to the placement of singers in each ensemble. Both advanced choirs have received numerous awards and accolades and earn Superior ratings at District, State, and National adjudications.
What is the purpose of Back to Chorus Night? When is it held? Why is it required to attend?
Back to Chorus Night is held within the first 2 weeks of the start of the school year to provide an information filled evening to students and parents about the SLHS Choral program. During the evening, Chorus families will have dinner together, complete forms, pay fees, and get acquainted with the program offerings, needs, and requirements. This evening is separate and distinct from Back to School Night to enable Ms. Gigliotti to cover all the information about the Choral program, answer questions and get more time to meet new families and greet those returning. Attendance is required by the students and at least 1 parent. This is to ensure all students have the appropriate forms completed and have paid at least 50% of their activity fee and/or uniform fee (new students).
Why is there an annual activity fee for Chorus and what is it used for?
The activity fee is used to pay for curricular materials that are not provided by FCPS. It includes:
Choral Music
Chorus T-Shirt
Pencil
Music Binder
Theory Workbook
Sight Singing Workbook
Uniform Garment Bag
Dinner and T-Shirt for the February Pyramid Concert
All-District Chorus Audition Fee
Instructional fees (clinicians, sectional instructors, accompanists)
Activity Fees for Students who may be on Free & Reduced Lunch are provided by FCPS.
What are the annual fundraisers and why do we need them?
Every year we do a combination of fundraisers that offset department wide costs, and individual student costs. Some go directly to the student to help offset the uniform fee, Spring trip fee, and some go toward fulfilling general program needs.
This year our main fundraisers will be:
Claire's Gourmet (Individual student credit)
Citrus Sale (Individual student credit)
Scrip Program (Individual student credit)
eScrip Program (general fund)
Monthly Restaurant Nights (general fund)
SingStrong (general fund)
Community Fund Drive (Tag Day) (general fund) – REQUIRED PARTICIPATION
Reston Town Center Caroling (general fund)
Spring Yard Sale (general fund)
Broadway Night (general fund)
Corporate donations, community donations (general fund)
Performance donations for community events (general fund)
Our budget is 99% based on fund-raised money. FCPS provides very limited funds for our program, currently about $1000 per year and that number decreases annually. $1000 isn't even enough money to purchase music for all of our ensembles for one concert. Because of this financial reality, we have to do a lot of fundraising. Running a choral program is like running a small business.
Funds are needed to provide the following basic line items:
Choral Music
Theory Books
Piano Accompanist for all concerts and 2 in class rehearsals per month, per ensemble
Sectional Instructor (weekly)
Music & Technical Production Manager for all concerts
Recording engineer for all concerts (IB Music students need professional recordings from all concerts; these recordings are submitted to satisfy diploma- and certificate requirements )
Uniform Accessories
We have been fortunate to raise enough funds the last few years to also provide:
Scholarships for students
Professional arranger/composer for any music the students request to perform that isn't currently in print
Choreographer
Student Awards & Rewards
Professional clinicians and musicians to work with students and perform with them on selected repertoire, as appropriate
Why do we need so many parent volunteers to support the Choral program?
The caliber & success of the Choral program is dependent on curricular instruction given by Mrs. Gigliotti, student motivation, and parental support. Mrs. Gigliotti's main focus must be on the music. Parents are needed to manage uniforms, run fundraisers, and assist with concert production. For example: Each Choral Concert requires roughly 10-15 parents to volunteer. Duties may include: Managing the front of the house, selling concessions, helping students with uniform accessories, managing back stage traffic, supervising student behavior in the audience (groups not on stage).
Other Choral Events that require a large number of parent volunteers:
Back to Chorus Night –25 parents to organize the event: set up, copies, forms, notary, uniform fittings, payments, clean up
Community Fund Drive (Tag Day) –Co-Chairpersons and 40-50 parents (drivers)
Citrus Sale – Co-Chairpersons and a team of 5-10 parents to unload and assist with pick up (students will also be recruited for this process)
Claire's Gourmet Fundraiser – Chair person and a team of 5-10 parents to unload and assist with pick up (students will also be recruited for this process)
Broadway Night – Co-Chairpersons and a team of 25 parents
Sing Strong – Co-Chairpersons and a team of 50-100 parents
Uniforms – team of 5-8 parents to work with seamstress, organize fittings and alteration schedule, drop off/pick up dry cleaning, ensure accessories are accounted for, and assist with uniforms when traveling
Spring Awards Banquet – Co-chairpersons and a team of 20 parents to set up and break down
Why do the students need to purchase gowns and tuxedos (uniforms) and have all alterations done through the choral program? Why is it necessary that gowns & tuxes are cleaned and pressed for every performance?
It is customary that high school choirs wear gowns and tuxedos for performance. It is part of ensemble professionalism. When our choirs go to adjudication festivals we are judged on our appearance in addition to our musical performance; therefore:
All gowns must be at the same hemline
All ladies must wear closed toed dress shoes with no more than a 2 inch heel and nude panty hose or knee highs
All tux shirts and pants must be pressed
All men must wear dark socks and DRESS shoes.
All uniforms must be cleaned and pressed for EVERY performance. Our uniforms are machine washable and the gowns do up very well when washed on cold, gentle cycle, and hung on a hanger to dry. The choral department also offers group dry-cleaning runs throughout the school year for a special $2.49 price with our corporate sponsor, Organic Dry Cleaning.
In order for there to be consistency with hemlines and other alterations, they are all done by the same seamstress through the Choral Department. Uniforms for new students are purchased a size larger providing room for growth over the four years. Returning students can have alterations adjusted as they grow. Uniforms are not sized like department store clothing. They have their own sizing chart. All uniforms are purchased through the school through the same vendor. Alumni often donate uniforms back to the department. This allows some flexibility in swapping jackets (for tuxes) and gowns as students grow.
What additional opportunities will be offered to students to help them grow vocally and musically throughout the year?
District Chorus – Virginia Music Educators honors choir. Auditions at the high school level are held on one Saturday in November at a high school within District 12. Students from all of the school in District 12 will sign up to audition for that date during an assigned time block. The music for this audition is selected by the state and all students learn the music through their in class choral rehearsal and after school rehearsal/individual practice. Students will be selected by a panel of professional musician judges to participate in the District Honors Choir that is held in February each year.
All State Chorus – Virginia Music Educators honors choir which is open to 11th and 12th grade students who participate in District Chorus. Students audition at District Chorus for a place in this elite ensemble.
Senior Honors Choir – Virginia Music Educators honors choir for Seniors. This is the most prestigious honors choir you can be a part of in the state of Virginia. Auditions are held every October at Longwood University in Farmville, VA.
Broadway Night – This is the Choral Department's annual musical theatre cabaret. It is open to all students and offers them with the opportunity to perform solos, duets, trios, small ensemble numbers and well as large group numbers. Students will audition for Mrs. Gigliotti and her assistant director in November. The show runs 2 nights in January and is a fundraiser for the Choral program. It is an opportunity to grow as a performer in the musical theatre arena.
Community events – The choral department is regularly called upon to sing for community events. Students will be offered opportunities to perform the National Anthem, Carol at the Reston Town Center, Perform for corporate parties, fundraisers, and charity events. Some of these are solo performances, others are in small groups, or large ensembles.
Leadership Positions:
Chorus Officer Positions (President, Vice – President, Secretary, Music Librarian, Historian, Publicity, and Spirit Leader) These positions are open to 10, 11, and 12 grade students and this team of student leaders assist Mrs. Gigliotti in running the Choral Department. Students are elected by their peers at the end of each school year. Officers work with Mrs. Gigliotti before school starts in planning events and fundraisers for the choral department. They lead pyramid events, encourage camaraderie and set a positive example in rehearsals at all times.
Section Leaders – Students selected by Mrs. Gigliotti based on their musicianship and an interview to help lead within ensembles. Section leaders may run a sectional for reinforcement of a part, help establish camaraderie within the ensemble and demonstrate superior levels of musicianship, commitment and focus during rehearsal.
Student Ambassadors – Students selected by Mrs. Gigliotti in each ensemble that act as liaisons to the Chorus Officers. Ambassadors attend Chorus Officer meetings and work are exemplary students.
Student Directors – Students selected by Mrs. Gigliotti through a personal interview to assist with events such as Broadway Night.
Accompanist – Students who have done extensive private piano study may want to be an accompanist on a selected repertoire for a performance.
Men's & Women's A Cappella – STUDENT DIRECTED ensembles that perform at SingStrong each year and rehearse weekly after school. These groups arrange their own music and run like college a cappella groups.
Private Lessons – The Choral Department provides a list of recommended voice & piano instructors each year. This list will be available on the chorus website. Students are not required to study privately, but it is highly encouraged and recommended for optimal vocal & musical growth. Private lessons enable students to strengthen vocal production & learn to sing with proper technique, fosters musicianship, and educes self-confidence. If a student is interested in pursuing the performing arts at the college level as a major or minor it is very important that he/she takes private lessons. If Mrs. Gigliotti specifically recommends private instruction to a student, it is a compliment. It means the student shows great potential to be very successful in the performing arts.
What is SingStrong? Why is at South Lakes? Why are our students required to attend?
SingStrong is a weekend-long International A Cappella Music Festival. The festival includes 4 concerts, and 2 days of master classes and music coaching taught by professional musicians from around the country. The festival offers a unique experience as it showcases the power and versatility of the human voice. The event is at South Lakes because Mrs. Gigliotti is a SingStrong Producer and has been on the SingStrong team since the origin of the organization. SingStrong has brought the winners of each season of NBC's the Sing Off to our stage (Pentatonix. Afro-Blue, Nota, Street Corner Symphony), in addition to internationally acclaimed groups from Germany, Denmark, Sweden, Canada, Puerto Rico, and many more. Musical genres include classical choral, contemporary a cappella, overtone singing, looping artists, barbershop, folk, and multi-cultural. Our alumni come back annually to participate in the event because they were once inspired as high-school choral students, and they bring their entire collegiate a cappella groups to perform. All of the musicians that perform donate their time and talents with proceeds benefiting the Alzheimer's Organization and the SLHS Choral program. This one event supports $10K- $15K of our annual budget each year. Our SLHS a cappella groups perform at the high school competition on Saturday afternoon and receive a coaching with a premiere group. This event has been extremely motivating for our Choral students by showing them the musical opportunities that await them at the college, community, and professional levels as well as by offering coaching opportunities with many of the nation's best a cappella musicians and by educating them in many other aspects of music-making. We have been very fortunate to have the opportunity to host this one-of-a-kind music festival. The PCA sponsors the event and is therefore required to run it by providing ticketing, local publicity, on site set up, silent auction donations, back stage crew, hospitality, concessions, etc. It takes 50-75 student and parent volunteers to run this event. The SingStrong team also brings in an additional 30 volunteers to support the event. Choral Students can earn many service hours working this weekend's festival.
What is the purpose of the annual Spring Trip?
The main purpose of the Spring Trip is to perform and/or compete at various venues in the United States. Choral students look forward to this opportunity each year as it builds camaraderie, morale, and pride within the program. The trip usually occurs in April after Spring Break. Students miss no more than 2 days of school. The cost of the trip depends on the number of students participating (the more who participate, the lower the cost per student), the location (NYC and Disney are generally more expensive), and travel accommodations (air, or ground). Generally the trip is between $600 and $1300 depending on these variables. Every other year we participate in a music festival competition. The music festival enables the school to compete with other schools from around the country and be evaluated on a national scale. The ratings and awards provide the schools and the music director an idea of how well the music program is doing. On the years we don't compete, we usually visit a university music program and do a tour performance in the city we are visiting and/or at the university. The Spring trip is not purely work though! The students always know that there is a large measure of fun attached to it and it is meant to be the biggest reward for all their hard work of the school year. The itinerary is packed with sight-seeing, amusements, and at least one musical event for enjoyment.
Students will be given the opportunity to fund raise to offset the cost of the trip. More information will be sent home in the early fall with the trip cost, number of chaperones needed, and a more detailed itinerary.
What is the biggest difference between Middle School Choir and High School Choir?
You will find that everything at the high school level is more intense (academic load, athletics, extra-curricular activities, etc.) and elective classes are no exception. It is important to note that the high school Choral program is more than just an elective – it is an organization. It requires time outside of the school day for rehearsals, performances, community service and fundraising.It requires commitment, focus, and dedication. Students are becoming part of a music program that is well respected, nationally recognized, and has received many prestigious honors and accolades.
Instruction is focused on developing independent musicianship through a comprehensive music education that includes music literacy, music theory, music history, instruction in healthy vocal production and technique and artistry in musicianship. Emphasis is placed on engaging the body in the singing process so that students evolve into a complete performer.
Can students play sports, participate in other extra-curricular activities, and be active in the Choral Program?
Yes. It is important that you let Mrs. Gigliotti and your Coach/Sponsor know if you find conflicts on your calendar so they can work with you to help you participate in all areas equally. Proactive communication is vital.
Do students earn service hours for volunteering for Chorus events?
Yes. There are many ways for students to earn service hours that may apply to Tri – M (Music Honors Society), CAS , MYP, etc. There are sign-up sheets for students to volunteer for all chorus events. Sign-up sheets are generally hung on the door to the choral room and opportunities are announced regularly in class as well as on the Chorus website and Blackboard.
How can you get more information on the Choral Program?
Attend the SLHS Block Party and visit the SLHS Chorus Booth.
Attend Back to Chorus Night.
Attend monthly PCA Booster Meetings, generally on the fourth Wednesday of each month. They are posted on the Chorus calendar.
Visit the Chorus website regularly.
Stay in tune with your email for updates from Mrs. Gigliotti and the PCA Executive Board.
Contact Mrs. Gigliotti at ragigliotti@fcps.edu.