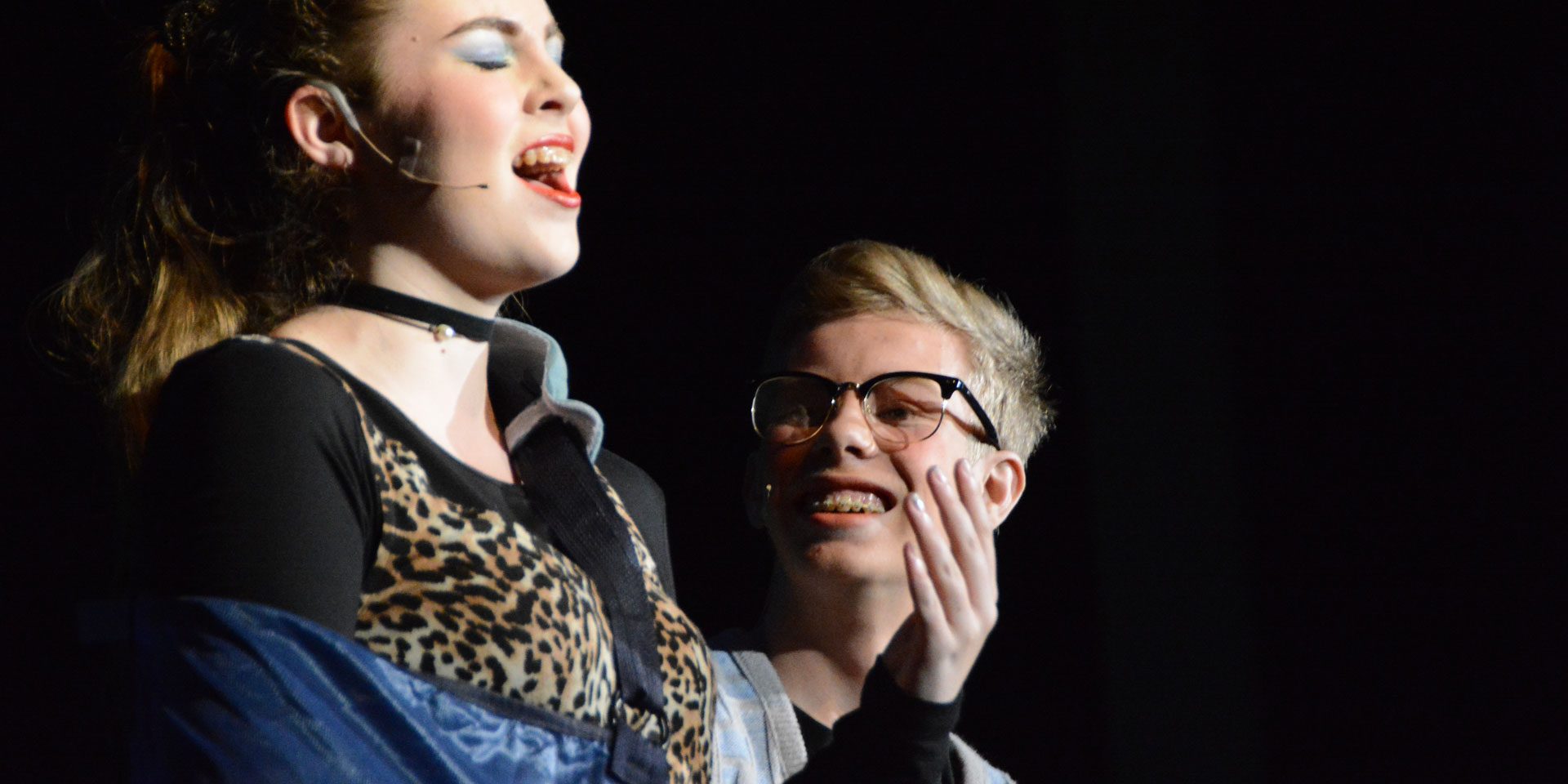 This year, the show will include high school students only, due to the challenges of putting this on without Ms. G. We will announce the theme shortly. See below for information on Rehearsal Schedule and fees.
Broadway Night 2018 Show Dates:
Friday, Feb. 2 @ 7 PM
Saturday, Feb. 3 @ 2 & 7 PM
Students, please fill out your Broadway night contract which explains our expectations and your role:
Parents, this year your support is needed at a higher level.  Please sign this mandatory interest form:
---
Rehearsal Schedule (Updated – Week of Jan 2 – 6)
Here is this week's rehearsal schedule. This page will be updated as the schedule is announced and posted.
TUESDAY (1/02)
3 PM – 4 PM: Music – All I Wanna Do
4 PM – 5 PM: Music – Cell Block (Soloists)
5 PM – 6 PM: Music – Telephone Hour
6 PM – 7:30 PM: Music – Mama Says
7:30 PM – 9 PM: Music – Wait for It
6 PM – 9 PM: Dance – No Business (All)
WEDNESDAY (1/03)
3 PM – 4 PM: Music – Supercal (Soloists), Suddenly Seymour (Soloists)
4 PM – 5 PM: Music – What I Did for Love, Cell Block (All, except BOYS)
5 PM – 6 PM: Music – You Will Be Found
7 PM – 8 PM: Blocking – All I Wanna Do
THURSDAY (1/04)
3 PM – 4 PM: Music – No Business (All)
4 PM – 5 PM: Music – Supercal (All), Suddenly Seymour (All)
5 PM – 6 PM: Music – Telephone Hour
6 PM – 7 PM: Music – What I Did for Love
7 PM – 8 PM: Music – You Will Be Found
SATURDAY (1/06)
9 AM – 11 AM: Dance – No Business, Supercal
11 AM – 12:30 PM: Blocking – Mama Says
11 AM – 1 PM: Music – Wait for It
12:30 PM – 2 PM: Blocking – Telephone Hour
1 PM – 2 PM: Music – Easy Street
2 PM – 4 PM: Dance – Easy Street
BWN Absence Request form:
If you need to miss rehearsal, let the directors and volunteers know by filling out the Absence Request Form:
https://docs.google.com/forms/d/1wyrBiQPzHWSvW_0VRLspNimizp3NrzOMcehCohAzky4/viewform?edit_requested=true
---
Fees
Fees for Broadway Night 2018 will be:
$45 – Participation Fee
$20 – Makeup (Optional, if needed)
$30 – DVD (Optional)
---
Broadway Night Participation Fee – $45
---
Make Up Kit – $20 (Optional)
---
Performance DVD – $30 (Optional)