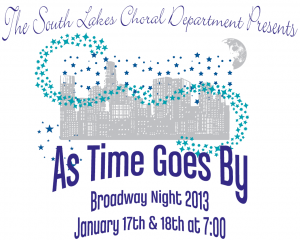 "It takes a whole village to raise our children."
Congratulations to the cast, crew, parent volunteers, Rita Gigliotti, and her professional colleagues that gave so much of their time, talent, energy and passion to this production!
Thanks to all those who attended the show, which supports the South Lakes Choral Program!
Instant Replay
For those of you who couldn't attend the show, we are making videos available here.
Act 1
Sieze the Day
from Newsies, Alan Menken/Jack Feldman
[embedplusvideo height="376″ width="620″ standard="http://www.youtube.com/v/nt9Loeyr0yA?fs=1" vars="ytid=nt9Loeyr0yA&width=620&height=376&start=&stop=&rs=w&hd=0&autoplay=0&react=1&chapters=&notes=" id="ep2668″ /]
My Time of Day/Never Been In Love Before
from Guys and Dolls, Frank Loesser
[embedplusvideo height="376″ width="620″ standard="http://www.youtube.com/v/yfjVrzVcTOo?fs=1" vars="ytid=yfjVrzVcTOo&width=620&height=376&start=&stop=&rs=w&hd=0&autoplay=0&react=1&chapters=&notes=" id="ep4142″ /]
Day by Day
from Godspell, Stephen Schwartz
[embedplusvideo height="376″ width="620″ standard="http://www.youtube.com/v/3eveaAozr0Y?fs=1" vars="ytid=3eveaAozr0Y&width=620&height=376&start=&stop=&rs=w&hd=0&autoplay=0&react=1&chapters=&notes=" id="ep9418″ /]
Sunrise, Sunset
from Fiddler on the Roof, Jerry Bock
[embedplusvideo height="376″ width="620″ standard="http://www.youtube.com/v/XeBiMl4c58s?fs=1" vars="ytid=XeBiMl4c58s&width=620&height=376&start=&stop=&rs=w&hd=0&autoplay=0&react=1&chapters=&notes=" id="ep4546″ /]
The Dark I Know Well
from Spring Awakening, Duncan Sheik
[embedplusvideo height="376″ width="620″ standard="http://www.youtube.com/v/8-t6QjK-NPY?fs=1" vars="ytid=8-t6QjK-NPY&width=620&height=376&start=&stop=&rs=w&hd=0&autoplay=0&react=1&chapters=&notes=" id="ep8478″ /]
Moonfall
from The Meystery of Edwin Drood, Rupert Holms
[embedplusvideo height="376″ width="620″ standard="http://www.youtube.com/v/MKVE3WpuqZU?fs=1" vars="ytid=MKVE3WpuqZU&width=620&height=376&start=&stop=&rs=w&hd=0&autoplay=0&react=1&chapters=&notes=" id="ep2612″ /]
Make Him Mine
from Witches of Eastwick, Dana P. Rowe/John Dempsy
[embedplusvideo height="376″ width="620″ standard="http://www.youtube.com/v/1kfuI2UwbEk?fs=1" vars="ytid=1kfuI2UwbEk&width=620&height=376&start=&stop=&rs=w&hd=0&autoplay=0&react=1&chapters=&notes=" id="ep2490″ /]
On My Own
from Les Miserables, Claude-Michel Schönberg
[embedplusvideo height="376″ width="620″ standard="http://www.youtube.com/v/InI8cpPFX1E?fs=1" vars="ytid=InI8cpPFX1E&width=620&height=376&start=&stop=&rs=w&hd=0&autoplay=0&react=1&chapters=&notes=" id="ep5478″ /]
Fugue for Tinhorns
from Guys and Dolls, Frank Loesser
[embedplusvideo height="376″ width="620″ standard="http://www.youtube.com/v/4pBOdFlTxmM?fs=1" vars="ytid=4pBOdFlTxmM&width=620&height=376&start=&stop=&rs=w&hd=0&autoplay=0&react=1&chapters=&notes=" id="ep6818″ /]
Simple Joys of Maidenhood
from Camelot, Frederick Loewe/Alan Lerner
[embedplusvideo height="376″ width="620″ standard="http://www.youtube.com/v/9E5x1FbMVQI?fs=1" vars="ytid=9E5x1FbMVQI&width=620&height=376&start=&stop=&rs=w&hd=0&autoplay=0&react=1&chapters=&notes=" id="ep6678″ /]
Be Back Soon
from Oliver, Lionel Bart
[embedplusvideo height="376″ width="620″ standard="http://www.youtube.com/v/RKotE6trE6M?fs=1" vars="ytid=RKotE6trE6M&width=620&height=376&start=&stop=&rs=w&hd=0&autoplay=0&react=1&chapters=&notes=" id="ep1169″ /]
Act 2
Summer Nights
from Grease, John Farrar
[embedplusvideo height="376″ width="620″ standard="http://www.youtube.com/v/FQCffS01zAQ?fs=1" vars="ytid=FQCffS01zAQ&width=620&height=376&start=&stop=&rs=w&hd=0&autoplay=0&react=1&chapters=&notes=" id="ep3081″ /]
I Know Him So Well
from Chess, Benny Anderson, Björn Ulvaeus/Tim Rice
[embedplusvideo height="376″ width="620″ standard="http://www.youtube.com/v/_trLmN4R2wY?fs=1" vars="ytid=_trLmN4R2wY&width=620&height=376&start=&stop=&rs=w&hd=0&autoplay=0&react=1&chapters=&notes=" id="ep4861″ /]
Far From the Home I Love
from Fiddler on the Roof, Jerry Bock
[embedplusvideo height="376″ width="620″ standard="http://www.youtube.com/v/GNt5rF13MyM?fs=1" vars="ytid=GNt5rF13MyM&width=620&height=376&start=&stop=&rs=w&hd=0&autoplay=0&react=1&chapters=&notes=" id="ep4201″ /]
You Could Drive a Person Crazy
from Company, Stephen Sondheim
[embedplusvideo height="376″ width="620″ standard="http://www.youtube.com/v/0eNKtvTLZkA?fs=1" vars="ytid=0eNKtvTLZkA&width=620&height=376&start=&stop=&rs=w&hd=0&autoplay=0&react=1&chapters=&notes=" id="ep5129″ /]
I Hate Men
from Kiss Me Kate, Cole Porter
[embedplusvideo height="376″ width="620″ standard="http://www.youtube.com/v/7daFbX7kTxY?fs=1" vars="ytid=7daFbX7kTxY&width=620&height=376&start=&stop=&rs=w&hd=0&autoplay=0&react=1&chapters=&notes=" id="ep7656″ /]
Forget About the Boy
from Thoroughly Modern Millie, Jeanine Tesori/Dick Scanlan
[embedplusvideo height="376″ width="620″ standard="http://www.youtube.com/v/TvXR_T-mvbo?fs=1" vars="ytid=TvXR_T-mvbo&width=620&height=376&start=&stop=&rs=w&hd=0&autoplay=0&react=1&chapters=&notes=" id="ep6130″ /]
Getting to Know You
from The King & I, Richard Rogers & Oscar Hammerstein
[embedplusvideo height="376″ width="620″ standard="http://www.youtube.com/v/jFtZ5MAR5u4?fs=1" vars="ytid=jFtZ5MAR5u4&width=620&height=376&start=&stop=&rs=w&hd=0&autoplay=0&react=1&chapters=&notes=" id="ep6988″ /]
Sun & Moon
from Miss Saigon, Claude-Michel Schönberg/Alain Boublil
[embedplusvideo height="376″ width="620″ standard="http://www.youtube.com/v/gr6cRJJKUf4?fs=1" vars="ytid=gr6cRJJKUf4&width=620&height=376&start=&stop=&rs=w&hd=0&autoplay=0&react=1&chapters=&notes=" id="ep6995″ /]
What that Man Right Outta My Hair
from South Pacific, Richard Rogers & Oscar Hammerstein
[embedplusvideo height="376″ width="620″ standard="http://www.youtube.com/v/A-7TNRiCxzM?fs=1" vars="ytid=A-7TNRiCxzM&width=620&height=376&start=&stop=&rs=w&hd=0&autoplay=0&react=1&chapters=&notes=" id="ep6344″ /]
Falling Slowly
from Once: A New Musical, Glen Hansard/Markéta Irglová
[embedplusvideo height="376″ width="620″ standard="http://www.youtube.com/v/NhrgKrlaD0E?fs=1" vars="ytid=NhrgKrlaD0E&width=620&height=376&start=&stop=&rs=w&hd=0&autoplay=0&react=1&chapters=&notes=" id="ep2885″ /]
Movin' Too Fast
from The Last Five Years, Jason Robert Brown
[embedplusvideo height="376″ width="620″ standard="http://www.youtube.com/v/yAQWDKwhgrQ?fs=1" vars="ytid=yAQWDKwhgrQ&width=620&height=376&start=&stop=&rs=w&hd=0&autoplay=0&react=1&chapters=&notes=" id="ep7964″ /]
A Step Too Far
from Aida, Elton John/Tim Rice
[embedplusvideo height="376″ width="620″ standard="http://www.youtube.com/v/IKeIRi8EnG4?fs=1" vars="ytid=IKeIRi8EnG4&width=620&height=376&start=&stop=&rs=w&hd=0&autoplay=0&react=1&chapters=&notes=" id="ep5418″ /]
Brand New Day
from The Wiz, Charlie Smalls
[embedplusvideo height="376″ width="620″ standard="http://www.youtube.com/v/4lnj9K2cqeQ?fs=1" vars="ytid=4lnj9K2cqeQ&width=620&height=376&start=&stop=&rs=w&hd=0&autoplay=0&react=1&chapters=&notes=" id="ep4089″ /]