SLHS Choral Department Presents Broadway Night 2017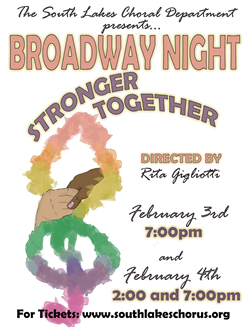 Join the South Lakes Chorus Department in our 12th year of Broadway Night! This year's show will feature rock and roll songs from Broadway shows.
More than 200 students from South Lakes Pyramid schools are participating in this musical theatre intensive that is centered around teaching students who want to grow in voice, acting, dance, and technical theatre. SLHS Choral students assume leadership roles in running every aspect of the show: performing, directing, production, technical theatre, publicity, costuming, choreography, all in a three-week period. Guidance and instruction is provided by Gigliotti and other highly qualified performing arts professionals.
Tickets are available for purchase online or at the door.
For more information, please contact Rita Gigliotti, SLHS Choral Director, at 703-715-4591 or at ragigliotti@fcps.edu.