SingStrong Tickets Available Now!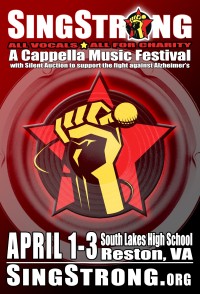 April 1, 2, 3, 2016 –professional a cappella groups from around the world will perform with collegiate and HS groups at the 8th annual SingStrong International Charity A cappella Festival at South Lakes HS. SingStrong's 13th festival (and its 8th at South Lakes High School's Arts Center) will feature 10-time Grammy Winners, Take 6, innovators of the jazz gospel style. Joining them will be Blue Jupiter featuring Diana Preisler, star of TV's "Pitch Slapped" on Lifetime, performing their NY brand of pop & twisted-broadway;  Vivid Voices, the award winning contemporary choir from Germany, and winners at both the German Choral Competition and the Aarhus Vocal Festival in Denmark; Julia Easterlin,  the indie live-looper featured at Lollapalooza, TED Talks, SXSW and across the world; Max Factor, International Barbershop Champion Quartet featured on NBC's "The Sing-Off"; Kaila Mullady, Current World Champion Beatboxer, Current American Beatbox Vice Champion and Current and 3 time Beatrhyming Champion; with dozens more groups being announced!
The all-vocal event consists of five concerts, an auction, and over a dozen classes and coachings, all featuring nothing but the human voice.
Event profits support the South Lakes PCS and the fight against Alzheimer's Disease.  Twenty-five percent of ticket proceeds will benefit South Lakes PCA with all other proceeds to benefit CureAlz.
Fans can attend single concerts, or purchase discount weekend passes which offer savings of up to 50% off.