Important DEADLINES for This Week:
Audition Video Uploads for BWN – Accepted through Monday Night, Oct 12
All Required Forms – Due this Friday, Oct 16
Monthly PCA ZOOM Meeting: 7:00 pm this Thursday, Oct 15
The PCA President will be sending out an invitation and details to all parents/guardians this Tuesday, Oct 13.
2nd Family Trivia Night: 7:30 pm this Friday, Oct 16
Join the fun in the 2nd Trivia Night this week!
This is a private, professionally hosted and customized game night, where you could socialize with other chorus families AND help raise money to support the SLHS Choral Program!
Registration:
$25 per family (any size team may play.) 
Special Discount for PCA members at Gold, Platinum and Director level:
Use the coupon code "VIP" to receive $5 off of the registration fee
The next Family Game Night will be on November 20 and on the third Friday evening of every month thereafter.
Forms: Due This Friday, Oct 16
If you have NOT submitted any one of the forms,
Please complete and submit them by this Friday, Oct 16, 2020
Digital Consent (So your child can use the technology resources we have for instruction):
Emergency Care Form:
Consent to Share/Free-Reduced Lunch Application: Complete/Print/Sign and Send it to the School if this is applicable to you:
Opt-Out Form (This will be important to our virtual performances since they will be shared on the web):
Scroll down to the 9-12 Forms Section, where you can find the information booklet and Opt-Out Forms in 8 different languages.
Read the booklet in your preferred language.
After reviewing, if you object to your child's participation in any or all of the activities listed, Complete/Print/Sign and Return the appropriate Opt-Out Form(s) to the School.
For all SLHS forms and further details:
https://southlakeshs.fcps.edu/opening-packet
Virtual Broadway Night:
Accepting Uploads through Mon Night
Virtual Show Dates are scheduled for February 27-28, 2021.
What You Need to Know Now 
The critical information (such as the timeline and details about auditions) is all outlined on our website: Broadway Night Info Link
Save this link!
Carefully Review all pertinent information
Visit the Information site frequently so you will not miss any important updates
Audition Deadline Extended Through Monday Night (Oct 12)
Download Broadway Night Audition Instructions 2020-21 and
Follow the instructions to upload your self-recorded audition videos
We will accept Uploads through MONDAY NIGHT, Oct 12.  So, NO MORE procrastination: Just GET IT DONE today!
Registration Info will be sent out to those who will have uploaded their videos on time
NOTE: Registration is due Saturday, Oct 31.
Senior Honors Choir
Review Senior Honors Choir information in the News & Notations section of our website for details, including audition information.
Be a Part of the First EVER FCPS Virtual Choir!
The Choir will include students from every MS and HS in FCPS and is going to be an amazing project to be a part of!
All students in the SLHS choral department are welcome to this opportunity an encouraged to participate. While there is no limit on the number of students who participate per school, we must have at least 1 representative from each school.  And we are hoping for many more representatives from the SLHS Chorus!
Cost for each student is $18; however, scholarships are available for any student in need. Please just let Mrs. Gigliotti know, and she will take care of you.
Since Mrs. Gigliotti will need to register students by Friday, 10/23, please let her know in time if you would like to be included in this history making moment.
PCA Membership & Fundraising Campaign 2020-2021
Please consider investing in the unique and valuable programs and opportunities the SLHS Chorus could offer to your students, who would reap the benefits for years to come!
PCA Membership: For parents and guardians of current Chorus students
Join PCA today if you have not yet done so!
Friends & Family Membership: Students will send out letters to their friends and families, asking for their support for the SLHS Choral program and share the link:
Corporate Sponsorship: Contact Eric Johnson at Membership@SouthLakesChorus.org, if you know of any businesses that may be interested in being a PCA corporate sponsorship:
local restaurants, retailers, or service providers
Your employer
Your own business
More Ways to Support the Choral Program
Lead this year's Friends & Family letter writing campaign (Oct/Nov)
Volunteer to assist with monitoring and managing collections & reports
Sell Corporate Sponsorships: Work with the team lead by Eric Johnson to help reach out to businesses for Corporate Sponsorship sales
Become our Social Media Chair to continue spreading the amazing music & keep our community updated
In addition, monthly meetings of the PCA are open to any Choral parents or guardians, and they meet the second Thursday of every month at 7:00pm via Zoom.  Please contact Susan Sather at President@SouthLakesChorus.org for the meeting link.
Parents: Please Join "Remind"
Remind is a Free text-based service that provides reminders to upcoming assignments and events.
To subscribe, text @weluvmuzik to the number 81010 as shown below: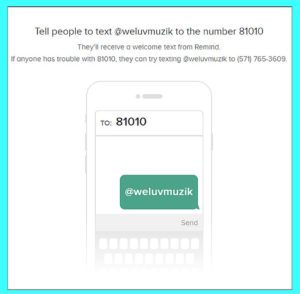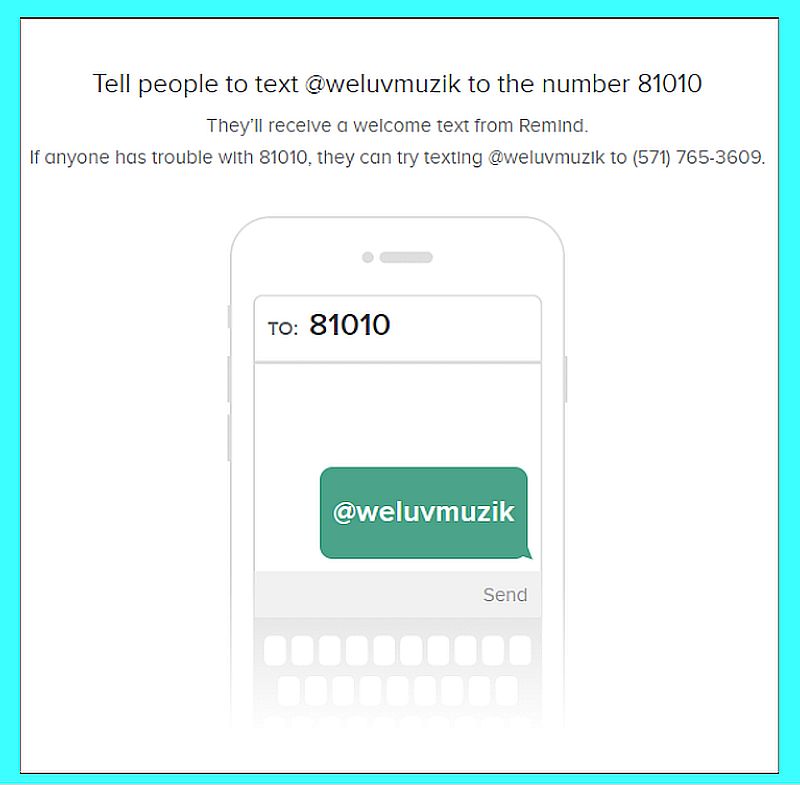 Recording & Slide Show of Back to Chorus Night
2 Virtual Choir Performances by Teachers for our Students
It Takes A Village: by all Secondary Chorus teacher (Middle School and High School) from FCPS – for all of our choir communities
Ain't No Wifi Strong Enough: from some of our Seahawk teachers for our SLHS students and
the lyrics by Eva Forman, our Theatre teacher
the A/V by Harrison de Wolfe, an alumna and our sound engineer
directed & produced by Mrs. Gigliotti
Virtual HS Bell Schedule
TIME
MONDAYS
Morning
* Intervention/Enrichment: Select students scheduled for synchronous instruction based on need

* Independent Work: Tasks assigned by classroom teachers
Afternoon
* Student Independent Work

* Teacher planning and professional development
| TIME | Tuesdays & Thursdays | Wednesdays & Fridays |
| --- | --- | --- |
| 8:10-9:30 | Period 1 (Bella Voce) | Period 2 (Select Treble) |
| 9:45-11:05 | Period 3 (Seahawk Chorale) | Period 4 |
| 11:15-11:50 | Lunch | Lunch |
| 12:00-1:20 | Period 5 | Period 6 |
| 1:35-2:55 | Period 7 (Chamber Singers) | Period 8 (Seahawk Camerata) |
Enrichment Opportunities
D.C. al Fine Choral Conducting Workshops
D.C. al Fine is doing things differently this year! They are offering conducting workshops for different experience levels ONLINE.
Workshops include master classes with conductors you will love to work with, including:
Edith Copley
Hilary Apfelstadt
John Irving
McKenna Senson
Bill Podolski
And more TBA
For more information, please visit: https://www.dcalfine.com/details-and-tuition.html
Important Dates
THIS WEEK:
Mon, 11/16 – Sat, 11/21
BWN Rehearsals
(communicated via text messages)
Fri, 11/20
7:30 pm (Zoom)
Family Fun/Game Night (via Zoom)
Registration Info: see Virtual Trivia Nights link above
Sat, 11/21
1:00 – 2:30 pm
Chorus Swag Bags Pick-up Day
NEXT WEEK:
Mon, 11/23 -
BWN Rehearsals (communicated via text messages)
Wed, 11/25 – Fri, 11/27
Thanksgiving Holiday: No School
UPCOMING:
Wed, 12/16
7:00 pm
First Virtual Concert
Fri, 12/18
7:30 pm (Zoom)
Family Fun/Game Night (via Zoom)
Registration Info: see Virtual Trivia Nights link above
SLHS Chorus Department
Choral Director: Rita Gigliotti, RAGigliotti@fcps.edu
Parents for Choral Arts (PCA)
Parents for Choral Arts is a 501(C)(3) non-profit booster organization supporting the South Lakes High School Choral Department.  Federal Tax ID: 26-3487105
2020-2021 PCA Board Members
President
Susan Sather
president@southlakeschorus.org
Vice President
Eric Johnson
vicepresident@southlakeschorus.org
Secretary
Heather Smith
secretary@southlakeschorus.org
Treasurer
Ray van Hilst
treasurer@southlakeschorus.org


Member at Large
Amy Guerber
member-at-large@southlakeschorus.org
Member at Large
Stephanie Hando
member-at-large@southlakeschorus.org
Webmaster
Ray van Hilst
webmaster@southlakeschorus.org
Broadway Night
Juliana Carter
broadwaynight@southlakeschorus.org
Broadway Night
Amy Guerber
broadwaynight@southlakeschorus.org
Membership
Eric Johnson
membership@southlakeschorus.org
Admin Assistant
Mitsuyo Sprague
assistant@southlakeschorus.org
mosprague@fcps.edu