Fall Concert to Benefit the WACKY Foundation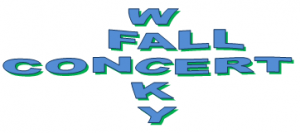 Rita Gigliotti and the SLHS Chorus Program are proud to designate the WACKY Foundation as the recipient of the fall benefit concert. Please show your support by following the link to the First Giving donation site for the WACKY Foundation at any time or at the concert. All donations are fully tax deductible.
Date: Tuesday, October 28, 2014
Time: 7:00 PM
Place: South Lakes High School, Little Theatre
More Information and Donate Now to the WACKY Foundation
About WACKY Foundation
The purpose of the WACKY Foundation is to raise awareness of, and to fund research into pediatric Wegeners Granulomatosis. The WACKY Foundation is a 501(c)(3) charitable organization created by SLHS sophomore and chorus student Kajal Chandrabhatla. WACKY is the
W
egeners
A
wareness
C
ampaign for
K
ids and
Y
outh. In 2013, a young family member was diagnosed with Wegeners Granulomatosis, a very rare autoimmune disease.
About Wegeners Granulomatosis
Wegeners Granulomatosis is so rare that diagnosis is very hard and is made only when the patient has been hospitalized with life threatening symptoms.  Wegeners is a form of vasculitis whereby the small blood vessels become inflamed and create small tumors that eventually block the blood supply to vital organs causing organ failure. Typically it can affect the eyes, sinuses, lungs, skin, joints and kidneys. Symptoms are typically repeated sinus infections, unknown rash, fatigue and joint pain.
Wegeners Granulomatosis is not curable but instead is medically pushed into remission using chemotherapy.The treatment protocols for children vary but always include long term chemotherapy and corticosteroids until the inflammation subsides and the organs resume working. Unfortunately by the time the child is diagnosed, severe organ damage has occurred. The disease is managed by routine labwork and medication. Wegeners is not hereditary and has no known genetic markers to support pre-screening or early diagnosis.