Welcome to Chorus 2014/2015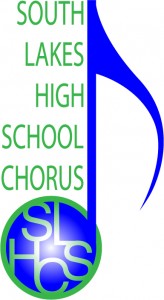 Summer Greetings from the South Lakes High School Choral Department!
As the new school year approaches, we want to keep  you informed of the choral department calendar and activities. The up coming events you need to know about include:
8/29/2014, 4:00 PM: SLHS Block Party – Visit the Chorus Booth!
9/10/2014, 2:20 PM: Department Meeting – All Chorus Students
9/18/2014, 6:00 PM: Back-To-Chorus Night – Required Parent/Student Event.
6:00 – 7:30: Forms, Fees Turn-In
7:30 – 8:15: Meeting
11/15/2014: Community Fund Drive – Required Student Event.
Please take a moment to read the following information about the department:
This year is packed with important dates.  Check out the calendar here:
The following Back-to-Chorus Packet forms are required to be completed and will be collected at the Back-To-Chorus Night meeting.  To make this go more smoothly, please fill them out in advance:
See you at Back-to-Chorus Night!