Caroling at Reston Town Center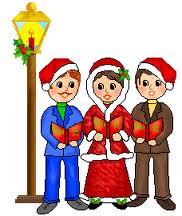 As we move into this joyous holiday season we have been once again asked to sing at the Reston Town Center as well.    We have 45 minute caroling sessions starting at 4pm on Dec 1,2,8,9,15,16.   These are all weekend dates and a perfect opportunity for an evening out with your family after watching these terrific singers perform.   There are sign up sheets in the Chorus room and we'll have a SignUp Genius for the chaperones as well.   We need just one parent per caroling session.  The County of Fairfax provides us a $1200 donation for the 6 sessions!
Where to Meet
Meet in the "Promenade" off of Democracy Drive (this is the large walkway that runs between the Burger Counter and MonAmiGabi and the Community Canteen). We stand facing Democracy Blvd. looking towards Mortons Steakhouse. Referring to this Reston Town Center Map, stand near location H6 (Mon Ami Gabi) facing the sidewalk that runs along Democracy. We have found very little foot traffic in the promenade itself so standing there does not work.
Performance Guidelines
Bundle up!
Be on time (3:45). This is a gig – $200 for 45 minutes of singing plus solicited donations.
Wear the SLHS Chorus tag to identify yourselves (in your binder)
Use the caroling binders and take good care of them so we can continue using them for future years.
Sing beautifully in unison.
Be cheerful and polite.
Put your donation can out in front of your group.
Be inclusive in your groups (Don't make 3 or 4 sub groups based on social circles.) Work together.
Be respectful of the parent chaperones.