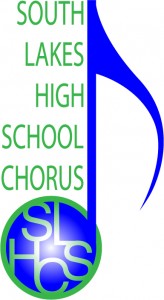 Don't forget – Thursday night is Back-to-Chorus night!  Here's what you need to know in advance:
Location: SLHS Cafeteria
Schedule:

5:30 – 6:15 – Arrive at your convenience – Forms, Fees and Food!
6:15 – 7:15 – Meeting promptly starts with Mrs. Gigliotti and the PCA.
7:15 – 8:00 – Q&A for New Students

Food: Bring $5 per person for dinner from Subway – sandwich, chips and a drink

Required Fees (please make checks out to SLHS):

Activity Fee: $100
Men's Uniform Fee: $90 (tux/shoes – $25 returned when jacket is returned)
Women's Uniform Fee: $90 (dress and alterations)

PCA Membership helps support the SLHS Choral Department
Forms to be collected:
FCPS Emergency Care Form

 – This form must be provided separately for Chorus.

FCPS Driver/Vehicle Authorization Forms. Complete one for the year
See you at  Back-to-Chorus Night!